oct 30 2011
Ce jeu n'est pas "web3d" , who cares ?
MixED aime les héros qui développent leur travail , avec patience et abnégation

Tel est Nicolas Devere aka Nics, que nous avons connu grâce à web3d-fr :

http://www.web3d-fr.com/foroum/index.php?showtopic=5211
Les fondamentaux étaient les suivants , le 05.10.2009 :
-> Type : FPS
-> Nombre de joueurs : 1
-> Langage : Java
-> Moteur : JMonkey engine
-> Compatibilité : Windows, Linux, MacOsX (JVM 1.5 et +)
-> Licence : GPL
-> Synopsis :
A l'aube du 31e siècle la théorie des cordes, enfin démontrée, donne lieu à de multiples applications dont la possibilité de voyager dans l'espace et le temps. A cette époque est créée la PAST : Police des Anomalies Spatio-Temporelles. Ce groupe d'élite est chargé de surveiller le passé et d'intervenir sur les évènements les plus noirs de l'Histoire afin de les contrecarrer et préparer ainsi le présent le plus radieux pour tous. Vous êtes un membre de cette troupe d'élite, affecté à la division Paranormal. Votre tâche, si vous l'acceptez, est de vous rendre dans différentes zones spatio-temporelles et les débarasser des créatures fantastiques les polluant (zombies, vampires, etc…). L'échec n'est pas permis, le futur en dépend !
***************
Flesh Snatcher est free et open :
//    FLESH SNATCHER is free software; you can redistribute it and/or modify
//    it under the terms of the GNU General Public License as published by
//    the Free Software Foundation; either version 2 of the License, or
//    (at your option) any later version.
//
//    FLESH SNATCHER is distributed in the hope that it will be useful,
//    but WITHOUT ANY WARRANTY; without even the implied warranty of
//    MERCHANTABILITY or FITNESS FOR A PARTICULAR PURPOSE.  See the
//    GNU General Public License for more details.
//
//    You should have received a copy of the GNU General Public License
//    along with FLESH SNATCHER; if not, write to the Free Software
//    Foundation, Inc., 51 Franklin St, Fifth Floor, Boston, MA  02110-1301  USA
****************
-> La démo
http://fleshsnatcher.sourceforge.net/demo/
Mais c'est aussi 
en téléchargement ici.
.
et ici :
http://mac.softpedia.com/get/Games/Flesh-Snatcher.shtml.
Mode d'emploi :
- souris : direction / shoot
- R : avant
- F : arrière
- D : gauche
- G : droite
- Espace : saut
- ESC : sortie du jeu
Vous pouvez  contacter Nics  ici.
**********************
MixED a donc suivi , depuis 2009, les avancées du projet.
Exemple :
30/06/2011, 13h27 , Nics :
le jeu (…) va rester très simple : tuer des monstres, ramasser quelques objets pour ouvrir des passages, et c'est à peu près tout ce qu'on fera  :)  .
Ah si, on pourra peut-être arrêter le temps ponctuellement sur certains passages, c'est un ingrédient dont je réfléchis à la pertinence…
Les tests d'alain , au fil des mois  :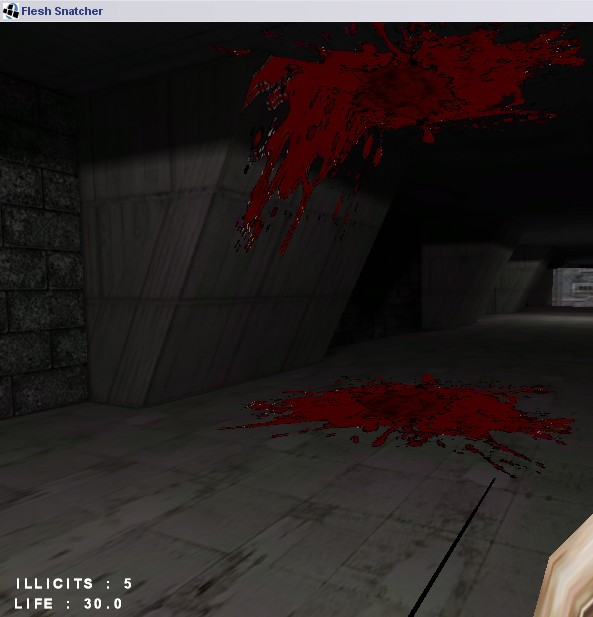 .


.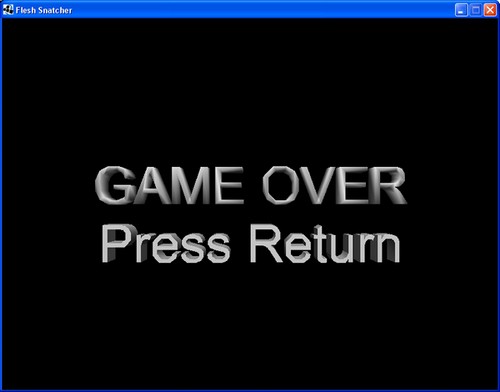 .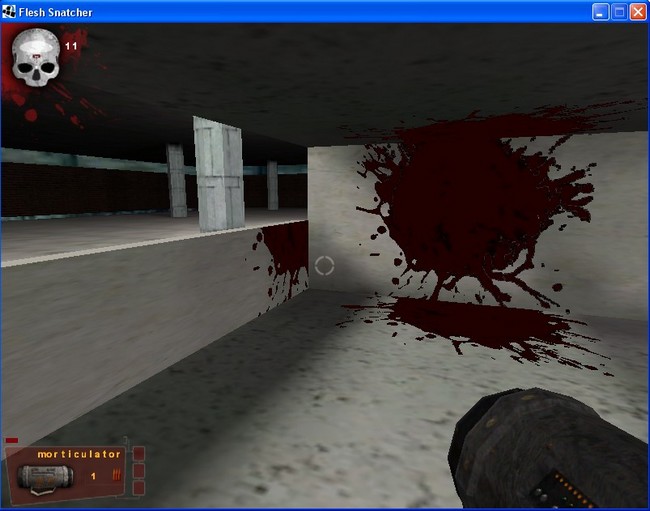 .
.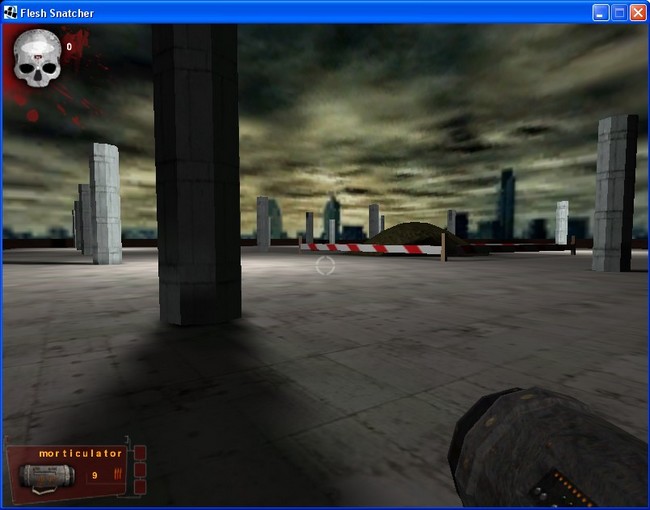 .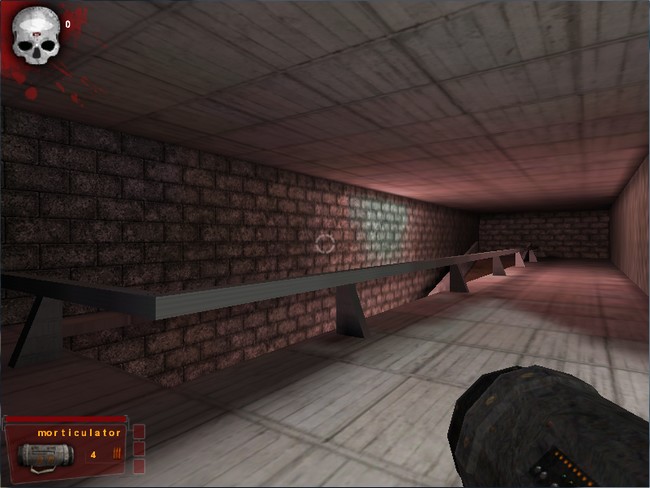 .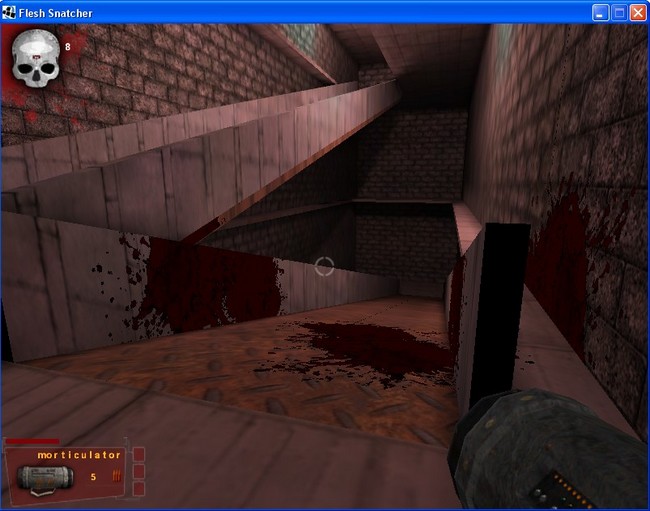 .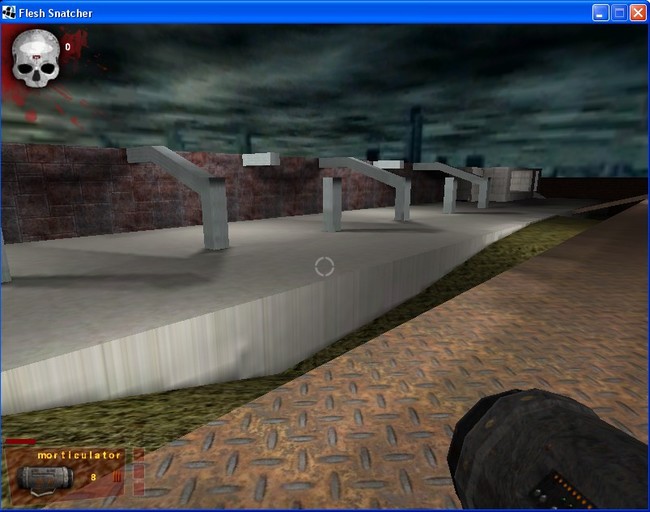 .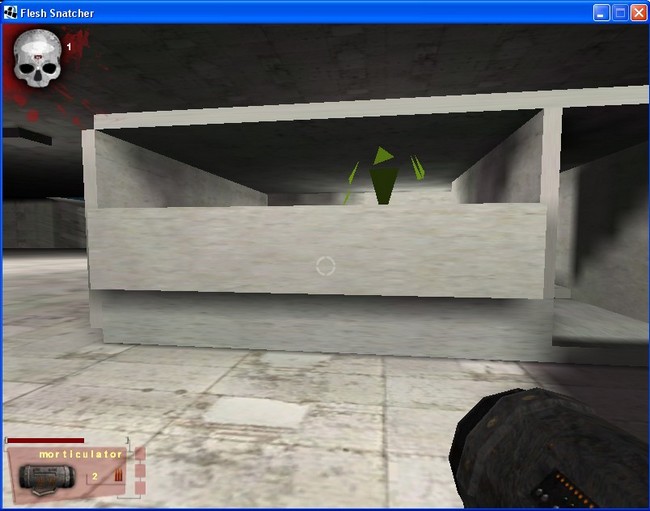 ..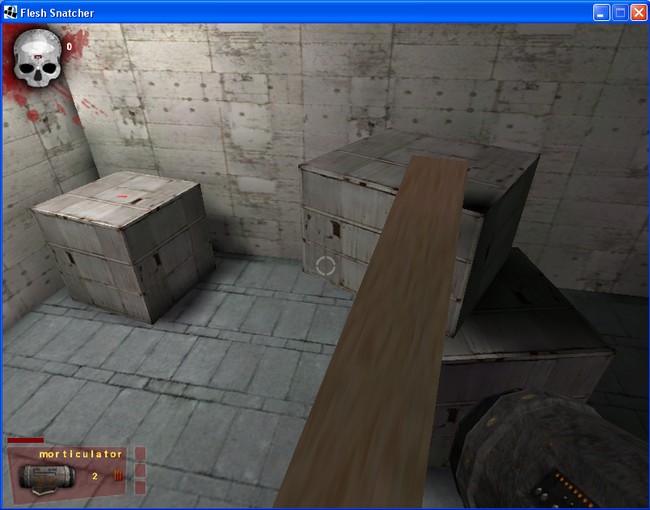 .
*********************************
Pour les dingues des lightmaps :
Les lightmaps ont été calculés grâce à un logiciel épatant que j'ai trouvé il y a peu, alors que j'avais abandonné l'idée de les calculer moi-même : FSRad ! Celui-ci gère les lumières, les ombres, la réflexion des surfaces, la radiosité… et sort les lightmaps en tga et la géométrie en .tri . Je n'ai plus eu qu'à faire un petit loader pour JMonkey.
****Nics :03.12.2010 à 04:46
*****alain_dum :
Mais c'est quoi ces *.tri géométries , on peut en convertir depuis 3dsmax ? ou autre ???
 ****Nics: 18.12.2010 à 16:52
Oui, le .tri est un format que j'ai découvert avec FSRad. C'est un format ASCII qui a d'intéressant qu'il supporte le multi-texturing, avec un couple UV différent pour chaque texture. Il y a un exporter Blender : http://ftp.cqfd-corp.org/triEXP-B2-36.v3.py . Une fois le .tri créé, on place les lampes et on génère les lightmaps et le .tri résultat avec FSRad comme décrit dans cette page . Ca peut paraître rébarbatif, mais on prend le coup
 . Après, pour lire ce .tri résultat, il faut faire un petit loader pour son moteur, mais ça n'est pas trop compliqué
**********
petite update : voir ici :
Warning
: is_writable() [
function.is-writable
]: Unable to access /cache/php.err in
/mnt/129/sda/6/c/mixed3d/spip/wp-includes/wp-db.php
on line
500
Leave a Reply