fév 27 2011
Nobox
Nobox-lab
C'est un espace de recherche dédié à l'architecture, au design et aux arts numériques , créé et dirigé par Grégoire Zabé .
/ It is a research lab dedicated to architecture, design and digital arts , created and directed by Grégoire Zabé .
Nous avons connu Grégoire Zabé par son "Inframonde" qui fut ouvert sur le serveur blaxxun .
/ We knew Grégoire Zabé from his "Inframonde" witch had been  open on the blaxxun server .
MixED va donc ici "exposer" certaines de ses oeuvres faites pour le VRML , mais aussi avec d'autres technologies , 3D temps réel et souvent multi-utilisateurs .
/ So , MixED will focuse here on some of his artworks , under VRML or others technologies , 3d real time and often multi-users .
Pour en savoir davantage sur son travail visitez :
/To know more about his artwork visit :

http://www.nobox-lab.com/index.php
2002 - INFRAMONDE
Un paysage participatif
A participative landscape
- VRML -
Avec/with Régis Albignac, programmation/programmer François Lemarchand
Inframonde est un paysage en 3d temps-reel, qui est constitué principalement d'un tunnel.
Ce tunnel est composé de photos que vous pouvez télécharger directement dans le tunnel, via la section "téléchargement".
L'idée est de recomposer un paysage a partir de différents fragments photographiques prélevés autour du monde.
Vous pouvez faire seulement une promenade dans ce paysage, et cliquer sur les images pour voir la date, l'emplacement ou le nom du photographe lié à ces photos.
/
Inframonde is a real-time 3d landscape, wich is basicaly constitued of a tunnel. This tunnel is composed of pictures that you can upload directly on this site.
The idea is to recompose a landscape with different photographic fragments took all over the world.
You also can just walk into this landscape, and click on pictures to see the date , the place where pictures were took, and the name of the photographers.
http://www.nobox-lab.com/inframonde/index_intro_fr.htm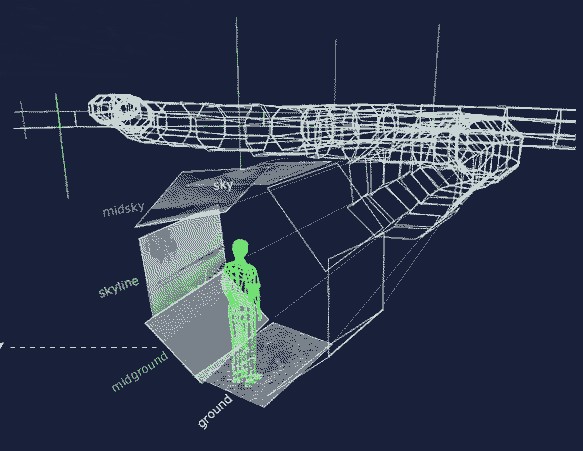 2003 - TRANSPORTRAIT
VRML / RealTime videos
Trans-portrait est une experimentation web3d sur la figure, la realité et le media.
C'est une transcription multiple et instable du theme artistique archetypal qu'est le portrait.
/Trans-portrait is a web3d experiment about  portrait , reality and media .
It is a mutiple and instable transcription of that  archetypal thema .
http://www.nobox-lab.com/transportrait/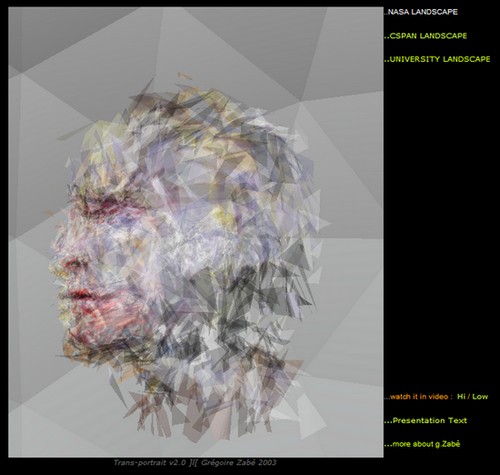 2003 - ELEO
Eleo est une marionette autonome.
Eleo is an autonomous puppet.
- shockwave 3d -
Avec Eléonore Hellio
http://www.nobox-lab.com/eleo/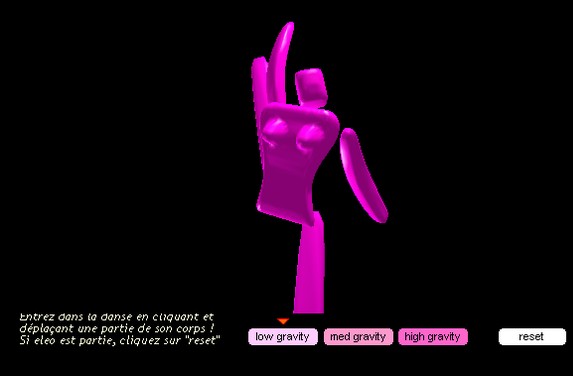 2004 - ZONE D'INVASION TEMPORAIRE
Zone d'Invasion Temporaire - Vrml - 2004
atelier de recherche OVNI / esad strasbourg
www.esad-stg.net

2004 - VIRLAB
Experiment viruses choreographies
- Shockwave 3d -
Sound work by josselin Roux
http://www.nobox-lab.com/virlab/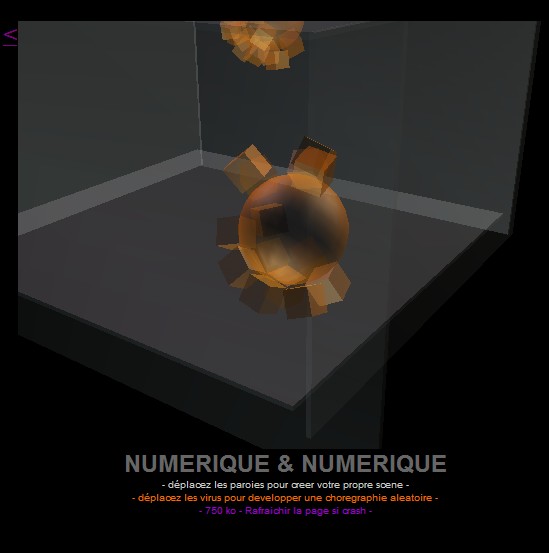 .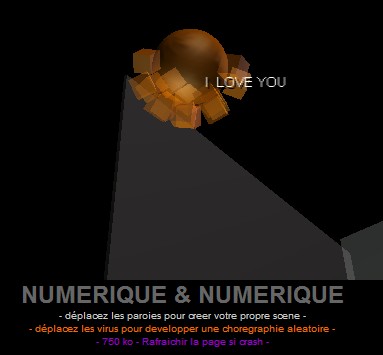 2008 - SHAREDSCAPES
- points de vue sur les paysages
/ points of view on landscapes
- Shockwave 3D
- Avec le soutien de la DRAC Alsace - crédits : Grégoire Zabé / programmation Stéphane Odon -
SHAREDSCAPES est un espace 3D expérimental partagé, une plateforme de création, de recherche et d'expression.
Il recueille auprès des visiteurs des publications de textes, d'images et de sons, qui donneront leurs propres définitions de la notion de paysage.
Le but  de SHAREDSCAPES est la génération, via une traduction informatique des contenus publiés, d'un espace/sculpture en 3d temps réel.
Chaque déformation de la surface de l'espace 3D est spécifique, liée aux caractéristiques du message posté (date, poids, contenu…).
/
SHAREDSCAPES is an experimental shared space, a platform for creatvity, research and self-expression.
It welcomes online submissions of texts, pictures and sounds, which will express your definitions of the concept of landscape.
The  aim of SHAREDSCAPES is to provide a discussion forum for points of view inspired by the concept of landscape.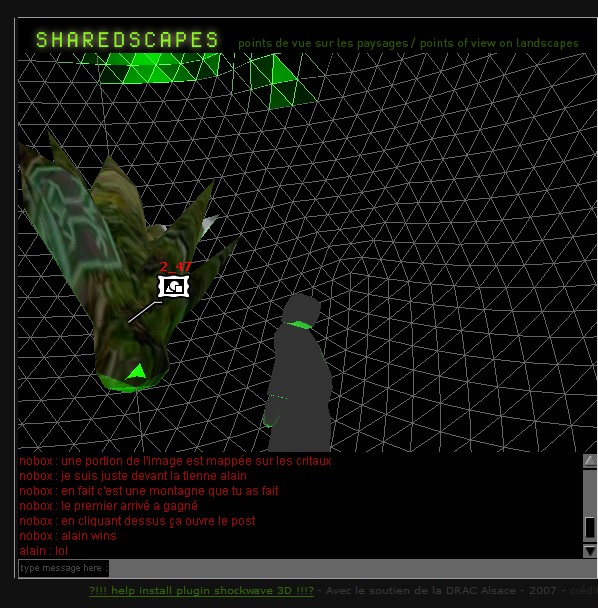 .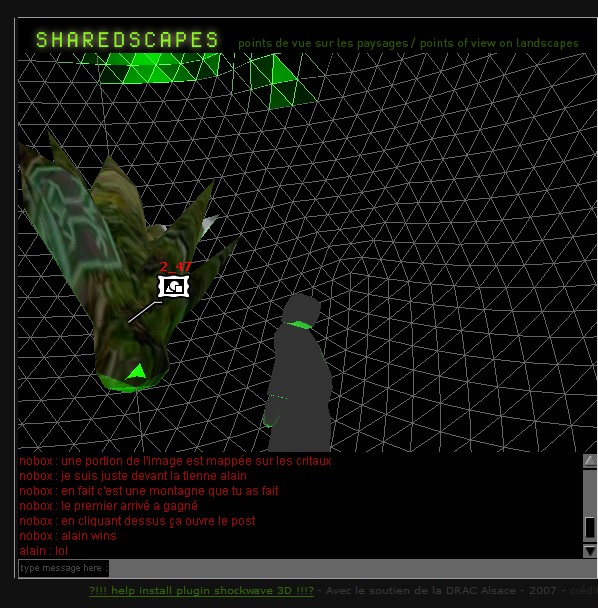 http://www.youtube.com/watch?v=tWhovt3f9cY
2010 - Buddhabrot Shop
An Hybrid  ( online and in situ ) Project by
Valérie Bouvier & Grégoire Zabé / programming by Frederic Le Saout
http://www.nobox-lab.com/buddhabrotshop/
Voir aussi  ici / Read  here too  :
http://mixed3d.free.fr/nobox/buddhabrotshop.htm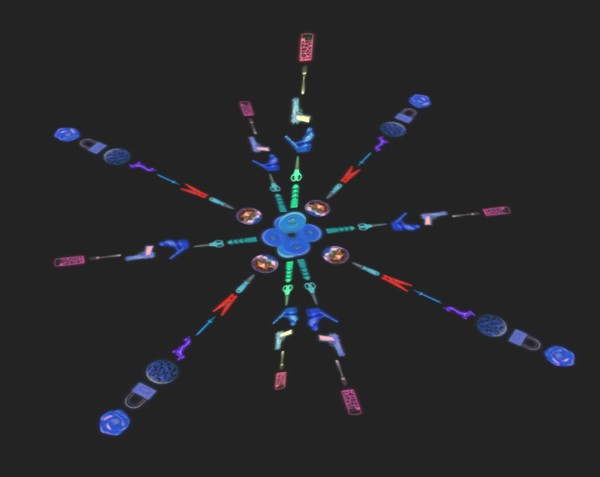 2010 - HTP3D - Hautepierre virtuel sur internet !
http://www.htp40.org/htp3d
(RE)VISITER HAUTEPIERRE EN 3D SUR INTERNET !
Se balader librement, découvrir le quartier sous un angle nouveau, rencontrer les habitants et écouter leur point de vue, expérimenter les oeuvres virtuelles d'artistes invités, tchater avec les autres internautes présents !
PARTICIPER A LA MODELISATION 3D OU A L' AJOUT D'INFORMATIONS ET DE POINTS DE VUE SUR LE QUARTIER !
Tous les projets et idées sont bienvenus pour ajouter du contenu à la modélisation du quartier !
Association Horizome - Hautepierre a 40 ans ! http://www.htp40.org
28, Bld Dostoïevski - 67200 STRASBOURG
03 69 06 76 12 / contact@htp40.org
Frédéric Adam, Marguerite Bobey, Pauline Gaucher, Edwina Hoël, Mocktar Niang, Dominique Pichard, Grégoire Zabé
Shiva web3d
Shiva web3d Dev : Alexandre Toure
+ Toute l'équipe HTP40 / Ass. Horizome, ainsi que les étudiants de la semaine intensive d'art / Ecole d'Architecture de Strasbourg