fév 24 2014
Here an example of crowdfundig using ulule.
I, Alain "alain" Dumenieu, tried it around my tests of 3D printings.
It was also a way to retrieve friends and to showcase my art works and videos.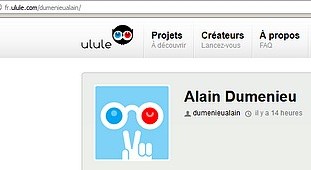 http://fr.ulule.com/3dumenieu/
Had been created on january 16 2014, and prepared in december 2013.
..
I first learnt ulule:
( see here how to read ulule in english : http://fr.ulule.com/3dumenieu/news/money-28641/



Conseils de rédaction pour la description de votre projet sur Ulule :
http://fr.vox.ulule.com/conseils-redaction-description-votre-projet-ulule-258/
Les contreparties sur Ulule : comment les penser, comment les créer ?
http://fr.vox.ulule.com/-contreparties-ulule-comment-penser-comment-creer-1-497/

Les trois Cercles du financement participatif
http://fr.vox.ulule.com/-trois-cercles-financement-communautaire-crowdfund-717/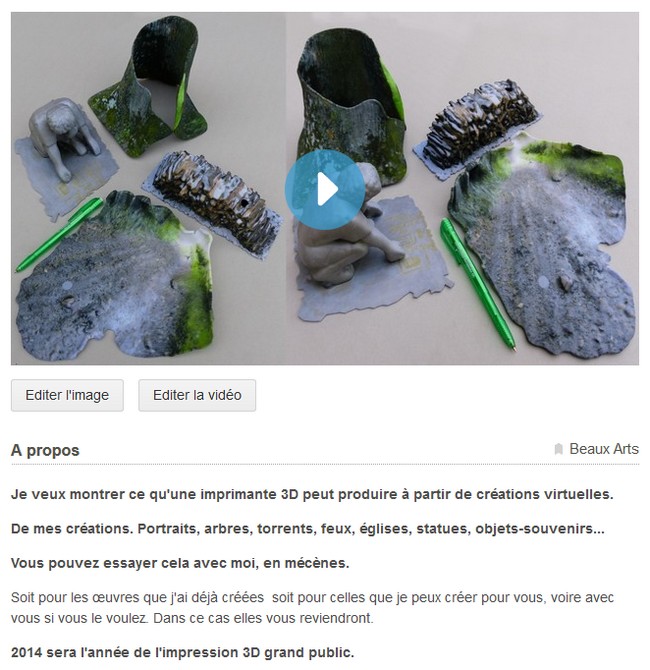 16 janvier 2014 14:41:53
Nous avons validé votre projet. C'est vous qui allez décider du moment exact de sa mise en ligne …
http://fr.ulule.com/3dumenieu/
Il est très important que vous obteniez vos premiers soutiens dès le lancement du projet, afin de ne pas rester dans une situation où votre projet serait à 0% de financement, ce qui n'attirerait pas la confiance de nouveaux visiteurs. Commencez donc *toujours* par contacter quelques personnes dans votre entourage très proche avant de publier sur Facebook & co. Si nous insistons sur ce point, c'est vraiment parce que nous savons par expérience que c'est la meilleure (et la seule) façon de lancer la dynamique positivement !
Avant la publication de votre page, soyez sûrs de préparer le lancement de votre projet :
http://fr.vox.ulule.com/guide-promotion-ulule-etape-1-checklist-lancement-projet-507/
Avant l'obtention de vos 5 premiers soutiens, vous êtes dans la couveuse Ulule. Vous avez 7 jours pour en sortir afin d'entrer dans les sommaires publics du site : à vous de jouer ! http://fr.ulule.com/about/faq/#q212
N'hésitez donc pas à coordonner vos premiers soutiens : c'est ainsi que les projets démarrent.
http://fr.vox.ulule.com/les-trois-cercles-financement-communautaire-crowdfunding-717/
Une fois sorti de couveuse, vous devrez animer votre collecte afin qu'elle reste dynamique pendant toute sa durée. Votre secret ? Les News !
http://fr.vox.ulule.com/-news-mon-projet-pourquoi-comment-et-quand-3300/
Nous restons bien sûr à votre disposition en cas de besoin, n'hésitez pas !