avr 30 2010
Tamiko Thiel est une artiste multi-media qui utilise les potentialités  dramatiques et narratives de la 3D virtuelle et interactive
pour  questionner des aspects  sociaux  et  culturels .
/
Tamiko Thiel is a media artist  focusing on developing the dramatic and narrative capabilities of interactive 3D virtual reality
as a medium for addressing social and cultural issues.
( Davantage d'informations ici …/cv.html#Bio)
 /
See more here  tamiko/cv.html
Explorez ici le Portfolio de Tamiko
/
Take a look at all you could see here  on Tamiko's online Portfolio :
 http://www.mission-base.com/tamiko/index.html
MixED venant du VRML et de l' époque de Blaxxun ,
nous l'avons connue par " Beyond Manzanar" et "Geometries of Power" ,
qui furent parfois ouverts sur le serveur de chat de Blaxxun .
/
As MixED comes from VRML and Blaxxun times ,
we knew her with "Beyond  Manzanar" and "Geometries of Power " ,
witch were , from time to time , opened on the Blaxxun chat server .
L' "exposition" de MixED va se concentrer sur
/
MixED  will focus on :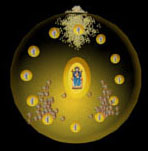 and on


Merci beaucoup , Tamiko , d'avoir acceuilli notre proposition d ' "exposition" avec  MixED ,
et pour votre  aide constante .
/
Thank you very much , Tamiko , for accepting  our idea to showcase your art work ,
and for all the help .