avr 26 2010
Virtuelle Mauer / ReConstructing the Wall

 
VR Project, 2008, artist team T+T (Tamiko Thiel & Teresa Reuter)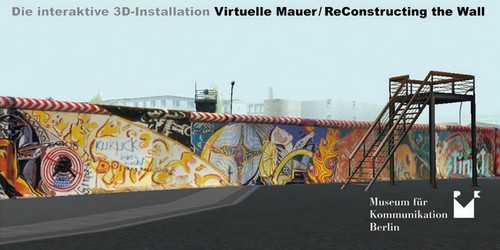 Virtuelle Mauer / ReConstructing the Wall
est une installation de réalité virtuelle,
un environnement numérique  interactif qui permet aux spectateurs
de faire l'expérience d'une section du mur de Berlin et de ses quartiers environnants ,
selon leur ancienne complexité.
Utilisant la dramaturgie des techniques interactives de réalité virtuelle ,
comme la simulation, l'interaction et le Voyage dans le temps,
cette installation interactive en 3D est constituée d'un réseau de scènes
dont les utilisateurs déterminent les séquences  selon leur propres actions.
L'installation de réalité virtuelle est montrée par une projection numérique 3D de 3m x 5m ,
une image grandeur nature qui plonge les utilisateurs visuellement dans l'espace virtuel
et engage leur sens kinesthésique.
Les utilisateurs s'y déplacent  et explorent le monde en 3D interactif  avec une  manette de jeu simple à utiliser.
 
Des haut-parleurs stéréo transmettent une amiance  sonore telle que  le bruit de la circulation et le chant des oiseaux,
mais à certains endroits dans le monde virtuel,
on peut aussi entendre des enregistrements de documents d'archives traitant des tentatives d'évasion et d'autres événements
historiques qui ont eu lieu en relation avec ce projet.
Virtuelle Mauer / ReConstructing the Wall

 is a virtual reality  installation,
an interactive 3D computer graphics environment that allows users
to experience a section of the Berlin Wall and its surrounding neighborhoods
in some of their former complexity.
Using interactive VR dramaturgical techniques such as simulation, interaction and time travel,
it develops a 3D interactive installation consisting of a network of scenes whose sequence users will determine via their own actions .
The virtual reality installation  is shown as a  3m x 5m (~9' x 15') interactive 3D computer projection,
a life-sized image that immerses users visually in the virtual space and engages their kinesthetic senses. 
Users move through and explore the interactive 3D world of the VR artwork with a simple-to-use joystick.
Stereo speakers convey background ambient sounds such as traffic noise and birdsong, 
but at certain locations in the virtual world one can also hear recordings of archival documents dealing with escape attempts and other historical events that occurred in the project area.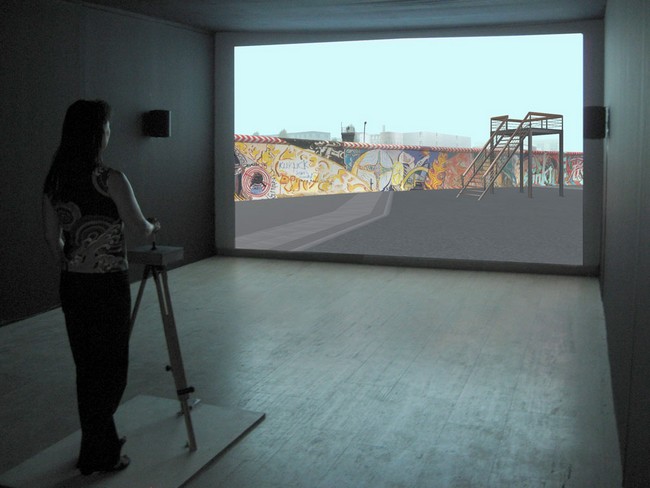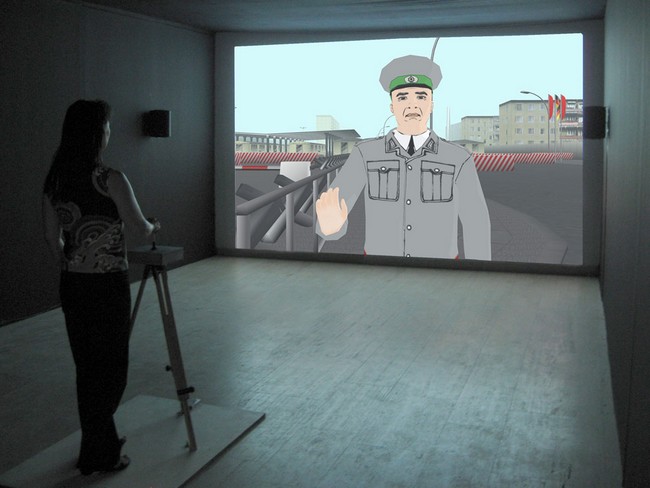 http://www.virtuelle-mauer-berlin.de/…/screenshots.htm
Streaming Video :  http://www.architekturclips.de/berliner_mauer