déc 25 2010
This is Your Special Invitation to the AtmoJunkies 9th Annual 3D Halloween Party!!http://www.3dhalloween.com
PARTY CENTRAL:
PARTY LOCATION: Atmo Homeworld
HOURS: beginning the weekend of Friday, Oct 28th thru Sunday Oct 30th evening
It's time again for our 9th annual 3D Atmo Halloween Party.
The party is scheduled to begin the Friday before Halloween - starting the evening of October 28th, and lasting until Sunday the 30th evening, so everyone should be able to find a time over the weekend to drop in and say hello.
It was so great seeing the turnout of the Atmo Community and catching up with everyone at last year's party. I really hope that everyone will try to find some time to visit Homeworld again this year to explore and celebrate another 3D holiday with friends.
It is a very special treat to announce that Martin and Francesca are hard at work on a new world for this year's party. Most everyone remembers these two talented builders for creating some of the most fun and interesting worlds in Atmo. If you are new to Atmo and have not experienced a "Martin" world then you will really be impressed at what can be done with this program.
Consider this your very special, personal invitation to a weekend of friends and fun!
 Be There!
:~Donza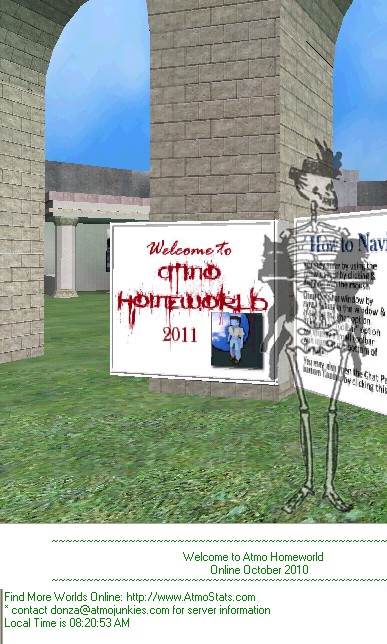 Warning
: is_writable() [
function.is-writable
]: Unable to access /cache/php.err in
/mnt/129/sda/6/c/mixed3d/spip/wp-includes/wp-db.php
on line
500
Leave a Reply